POLITICS OF SPACE
FOR IMMEDIATE RELEASE
30. April 2019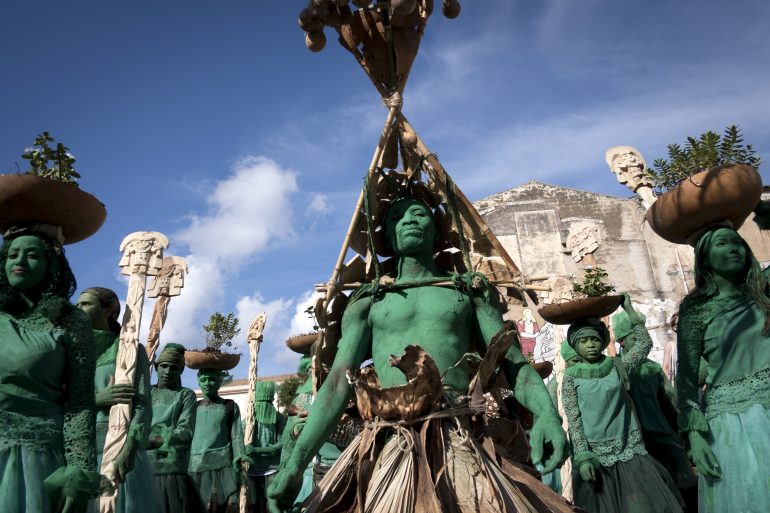 WHO: Arts & Globalization Platform
WHAT: POLITICS OF SPACE. A talk- and performance programme in the context of GAD – Giudecca Art District. Curated by Independent Curator Rikke Jørgensen
WHEN: Saturday May 11, 2019 from 10:30am-7:30pm
WHERE: The former church Chiesa ss Cosma e Damiano, Campo San Cosmo 624 30133, Giudecca – Venice, Italy
OPENING PERFORMANCE at 10:30am by Jelili Atiku 'My Eyes Are Larger Than My Mouth'
How is Politics of Space manifested at the Venice Biennale? What does it mean to Decolonize the Museum? How can we create Safe and Healthy Art Spaces for Inclusive Dialogue?
Arts & Globalization Platform presents Politics of Space, a public talk- and performance program part of GAD – Giudecca Art District during the Venice Biennale 2019. The program will take place in the former church Chiesa ss Cosma e Damiano, Giudecca, Venice and will open up to a collective reflection with the public on how art is related to politics of space.
Jelili Atiku, the world-renowned Nigerian performance and multidisciplinary artist, who participated in the 57th International Art Exhibition, will open the program with his new performance entitled 'My Eyes Are Larger Than My Mouth'.
Rikke Jørgensen, Founder of the Arts & Globalization Platform, says about the program:
"In a world characterized by growing inequalities and asymmetrical concentrations of wealth and power, it is necessary to acknowledge that the spaces through which we move and the places in which we live are thoroughly political. Politics of space shapes the homes, streets and cities in which we live, defining the spaces and places in which we are able to pursue our lives. From national borders to walls and wire fences; from privatization of land to exclusion and expulsion of persecuted peoples; questions of space and place, of who can be where and what they can do there, are at the very heart of the most important political debates of our time. While the political character of the temporal nature of human existence is generally acknowledged – history has long been understood in political terms – we can all too easily fail to recognize, with adequate sensitivity and clarity, that the spatial dimension of our lives is also essentially political. Venice is a loaded city where it is interesting to talk about politics of space because of its history as a center of global trade and finance and because it can be seen as a microcosm of the western world and its relation to the global".
The invited speakers in the program are:
Awam Amkpa (NI), Malala Andrialavidrazana (MD/FR), Arnaud Cohen (FR), Christian Danielewitz (DK), Gig Depio (PH/US), Tanner Goldbeck (US), Paul Goodwin (UK), Kristian Handberg (DK), Valentina Gioia Levy (IT), Enrico Lunghi (LU), Ibrahim Mahama (GH), Waseem Marzouki (SY), Pascale Obolo (CR/FR).
The Arts & Globalization Platform is a global interdisciplinary platform, which was founded in 2015 after the Arts & Globalization Conference in Copenhagen. The platform was part of the 57th Venice Biennale with an independent pavilion and is dedicated to transnational questions in relation to globalization and contemporary arts and culture.
FREE ENTRY
For press enquiries please contact:
Rikke Jørgensen | info@artsandglobalization.com | tel. +45 27509039
Emil Lüth | info@artsandglobalization.com | tel. +45 22126603
Follow us @artsandglobalization | #artsandglobalization | #politicsofspace
Production team

Rikke Jørgensen, Creative Director and Founder of Arts & Globalization Platform.
Valentina Gioia Levy, Artistic Director of GAD – Giudecca Art District, Venice (IT)
Emil Lüth, Assistant, Arts & Globalization Platform
GAD – Giudecca Art District, Logistic and Institutional Relations
Opening performance by Jelili Atiku is organized by Rikke Jørgensen, Art & Globalization Platform and Simona Carniato, Studioo non-profit. The performance is sponsored by Frezza and Emmegi.